Unified World Heavyweight Champion Anthony Joshua will take on Joseph Parker at Principality Stadium, Cardiff on 31st March. This is the first major heavyweight boxing out of 2018. This will be the second time in boxing history, where two undefeated HW champions put their title on the line. This will attract the global audience because the winner will be the world's undisputed Heavyweight Champion. If you are interested in watching Joshua vs Parker match on kodi then this article will help you out.
VPN for Kodi
Your IP Address:
159.69.189.217
is visible to the public.
You are taking risk!
As a kodi user, we used to watch tv shows, movies, live streaming videos, PPV and much more. Watching these from your own IP address is totally risky. Also, few kodi add-ons are geo-restricted and can't be accessed by all the users. In order to get rid of such issues, a Kodi VPN is always recommended. Using a VPN will unlock geo-blocked content, keep you anonymous online and watch without buffering! After testing out various VPN services for kodi, we found
IPVanish
to be the best amongst all.
Click here to get an instant 57% special discount on IPVanish for kodiforu users
.
Check: How to watch UFC 229 on Kodi?
This match will be broadcasted by sky sports box office. The match will start around 10 pm GMT. Match starting time in other Time Zones as given below.
New York (ET): 5 p.m
London (BST): 10 p.m
Chicago (CT): 4 p.m
Las Vegas (PT): 2 p.m
Denver (MT): 3 p.m
Los Angeles (PT): 2 p.m
Sydney (AET): 7 a.m. (Sunday)
Tokyo (JST): 6 a.m. (Sunday)
Paris (CEST): 11 p.m
Moscow (MSK): 12 a.m. (Sunday)
This match is available on Pay Per View basis, And the cost is around £19.95 until March 30. On 31st March the price will be £24.95 for telephone booking. Since its one of the most expected match, there will be no shortage of online streams. But when comes to kodi official addon, it's limited. And there is a decent number of streams available from some unofficial addons. Let us proceed to the steps on how to watch JOSHUA VS PARKER LIVE ON KODI.
Best addons to watch Joshua VS Parker on Kodi
Kodil Repo URL is not working. You can follow the zip installation procedure from the below guide. 
Sports Devil
Sports devil kodi addon is the best addon for watching PPV on kodi. Since most of the live TV and PPV addons use sports devil framework for streaming, it's better to first test out sportsdevil addon to watch Joshua vs Parker match on kodi. And sports devil will also have alternate sources if one goes down, other sources will help. Sports devil is available in the kodil and supremacy repo.
Repo URL: http://kdil.co/repo/
Alternate Repo URL: http://supremacy.org.uk/zip/repo/
Install sports devil from anyone of these repos. You can find the match listing under Live sports section. Navigate to sports devil > Live sports > Select any of the providers. All the available match will be listed there. Some providers may ask you to select the category (UFC/ Boxing/WWE).
For testing purpose, I had selected Vidsports.tv. This is the list of streams available under the boxing or UFC category. On the event date, the match will be updated here.
Planet MMA
Planet MMA is designed exclusively for PPV sports. In case, if sports devil doesn't work, all the addons using sports devil framework won't work. So we thought of providing a stand-alone addon with its own scrapers and unique database. Planet MMA is one such kodi addon that is available in supremacy and kodil repository.
Repo URL: http://supremacy.org.uk/zip/repo/
Alternate Repo URL: http://kdil.co/repo/
Install planet MMA from any of the above repo (Prefer supremacy because it has updated version). To watch the live event, open planet MMA > Fight Night Live. Under this sections, you will find ongoing live events.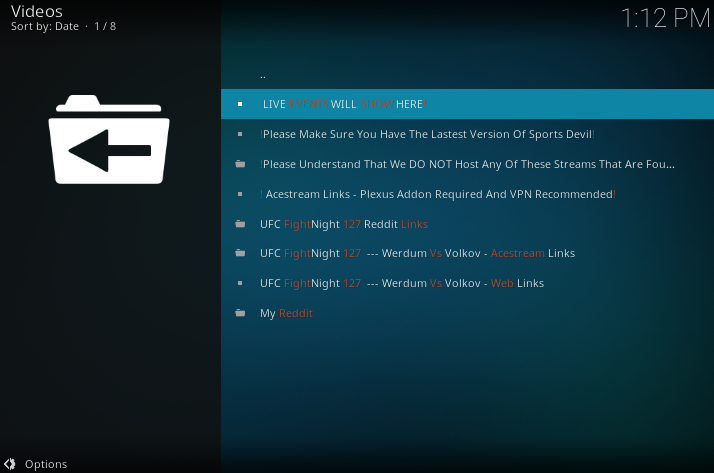 Previous UFC events can be found under UFC Fight Night. Currently, it has 98 past matches. Missed matches can be found under this section. Most probably these two addons work for sure. To be on safer side, we are providing few other alternate addons to stream Joshua vs Parker on kodi.
Sports World
Sports World kodi addon is a pure live streaming addon. It only fetches the readily available links. Its a better solution for watching only Live Sports. Though its sources are unavailable, the quality of streams is great. And the best thing about this addon is automatic switching. If a streaming source is down, the switching of the stream is happening in the background during the playback. This addon is available in the kodil repository.
Repo URL: http://kdil.co/repo/
Install sports world from the kodil repo. You can find the live content under UFC category. Just open Sports world > UFC. If there is an event, you will find the streaming links. Or it will show no events at the moments.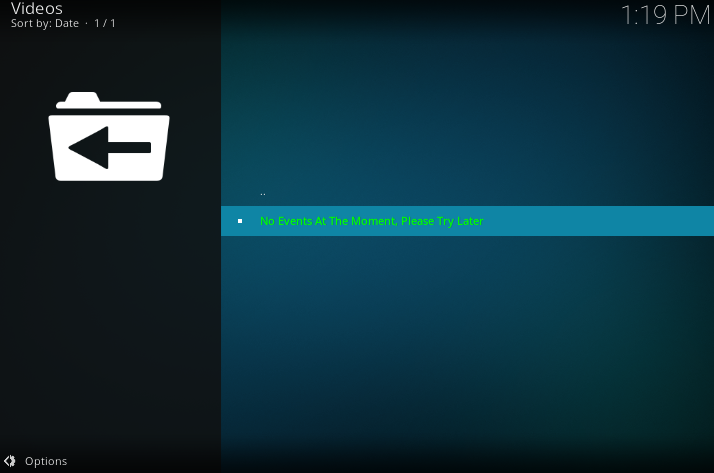 It's not working on some of the IP's. Its working good on the US and UK IP's. This addon may be geo-restricted. So grab a VPN, change your IP to Newyork and start the live streaming.
Other third-party addons which can stream live sports
CCloud TV

Since there are exclusive addons for streaming only sports, we left out CCloud TV. It's a well know live streaming addon. It's available in kodi repository. Here is an installation procedure of CCloud TV kodi addon. You can find the streams under the sports section.
Repo URL: http://kdil.co/repo/
Castaway Castaway is another live streaming addon and It's available in kodi repository. Here is an installation procedure of Castaway kodi addon. You can find the streams under the Live sports section.Repo URL: http://kdil.co/repo/
Other ways to watch Joshua VS Parker
Mobdro
Mobdro is yet another best way to watch live sports. Just install the  Mobdro app on your device. It has two versions, Freemium and Premium. Freemium is completely free. Open the app and search for "Joshua VS Parker". You will find the streams related to the search query. Select the streams and enjoy the show.
These are all the ways in which you can watch Joshua VS Parker match on Kodi. We hope that the article is clear. As a last piece of suggestions, install all the addons prior to the match and check how it works. And make a note of working providers. It will help during the match. Enjoy the match!!