WHAT IS EXODUS?
VPN for Kodi
Your IP Address:
66.249.73.92
is visible to the public.
You are taking risk!
As a kodi user, we used to watch tv shows, movies, live streaming videos, PPV and much more. Watching these from your own IP address is totally risky. Also, few kodi add-ons are geo-restricted and can't be accessed by all the users. In order to get rid of such issues, a Kodi VPN is always recommended. Using a VPN will unlock geo-blocked content, keep you anonymous online and watch without buffering! After testing out various VPN services for kodi, we found
IPVanish
to be the best amongst all.
Click here to get an instant 57% special discount on IPVanish for kodiforu users
.
Exodus is one of the best video add-ons on the Kodi media platform. It has been dominating as the most popular Kodi video add-on. Exodus plays movies and TV shows. It is available through the Add-on Installer. Exodus Kodi is the evolution of popular Genesis add-on with updated version, created by "Lambda". Previous Genesis version had favorites folder whereas Exodus add-on has no particular folder which is a minor setback for such a great add-on.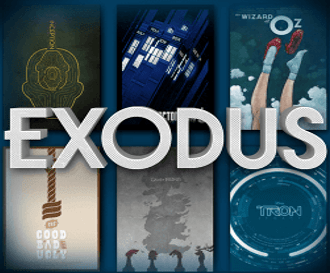 FEATURES OF EXODUS ADD-ON
Exodus supports the following features.
Real-Debrid
All-Debrid
Premium
tv
IMDB
KODI
Kodi, formerly called XMBC is a free, open source media player platform that can stream videos across a local network. Kodi offers you to access many TV shows, movies, and other media. Kodi knows how to decode video files. Those files could be media of our own or through the use of add-ons.  If we have the program setup, we can just flip through the various sections to find the entertainment of our choice. It allows users to play and view videos, music, podcasts, other media files from local and network storage and the internet.
Though Exodus video add-on is a popular add-on on Kodi, it faces some common errors and problems. In this article, we are going to see those errors and problems faced and the ways to fix those problems.
Exodus Kodi add-on installation guide:
Initially follow these steps to install Exodus video add-on.
Step 1: Open Kodi software and navigate to "SYSTEM">"FILE MANAGER"> "ADD SOURCE" > "NONE".
Step 2: Type the URL exactly http://fusion.tvaddons.ag and select "DONE".
Step 3: Enter a name for this media source as "FUSION" and click "OK".
Step 4: Go back to Kodi home screen and select the main title "SYSTEM">"ADD-ONS">"INSTALL FROM ZIP FILE">"FUSION".
Step 5: Select "XMBC-repos">"English">"repository. exodus-x-x-x.zip" .wait for add-on enables notification.
Step 6: Select "INSTALL FROM REPOSITORY"> "EXODUS ADD-ON REPOSITORY" >"VIDEO ADD-ONS">"EXODUS>"INSTALL".
Step 7: Wait for Add-on enable notification.
EXODUS KODI NOT WORKING
Many Users reporting dead links in Exodus add-on has been increasing. This is the condition which happens when the Exodus prompt on the screen cycling through other streams automatically till it finds a working stream. It is like a search engine which pulls contents from multiple sites. Do try another link until it works so that the functionality of Exodus will be fine.
Reasons for Exodus not working
Even though Exodus is working properly, there are some other reasons why we might find Exodus not working. The possible reasons are,
Kodi which you have installed is outdated. Exodus is designed to work with Kodi Isengard or higher version. It will not support to receive any Exodus issues if we use Kodi14.2 version.
A version of Exodus is outdated. The current version of Exodus is v2.0.14.
Common issues and remedies:
Problem 1: Exodus Kodi No Stream Available
Fix: "No stream available" error has nothing to do with any other Kodi add-on. This means, there are no websites with working streams for the video you have selected. If we you are sure that there is a stream for the video that you are searching for, simply do the following,
Method 1:
Uninstall Kodi software
Reinstall Kodi software without add-ons
Add Exodus again to resolve the problem.
Method 2:
Before using Kodi, we can go to "prime wire" website, which is one of the largest databases for stream available and search for a required movie. If the condition continues when we do not get search results, there is no fix for no stream available except to be more aware of what we are searching for.
There is a misconception those Kodi add-ons which are the box of information that stores information and links to every movie and TV shows. But Kodi add-ons like Exodus are simply searched engines. It provides videos from the API key service. The list of links to every video is scrapped from sources loaded into the add-on.
Problem 2: Watch only a few videos
Fix:
If we could see a limited number of TV shows in Exodus because the Kodi program has an outdated URL resolver. We could resolve by selecting System add-ons>System>Dependencies. Scroll down to find URL resolver and select it and we can update it too.
Problem 3: Watch videos only from the year the 1970s and earlier
Fix:
Make sure that the date and time are set. This means that the date and time have not set up on Kodi box. It shows the year 1970 by default.
Problem 4: If we click on movie or show, it shows "Working" but happens nothing
Fix:
This problem arises to the people who use "BT" internet service provider. Disable "home hub smart setup" if we use BT internet service provider which is an online setup wizard ad guides setting up BT broadband features on different devices that connect to BT hub and check issues which are facing. Sign up for a VPN service like IPVanish to get rid of this problem.
Problem 5: Wrong episode playing error
Fix:
Clear providers and cache.
Try different stream host.
Try an add-on with direct links.
Possible fixes for problems with Exodus add-on
  For PC or Laptop: "Disable antivirus software"
Open Kodi
Select SYSTEM>FILE MANAGER>ADD SOURCE>NONE
Type the following as http://fusion.tvaddons.ag and select DONE
Type FUSION under Enter a name for this media source and select OK.
Back to the home screen. Select SYSTEM>Add-ons>INSTALL FROM ZOP FILE and select FUSION.
Select START-HERE
Select "plugin.video.freshstart-1.x.x.zip".
Wait for enable notification.
Back to Kodi home screen
Select PROGRAM Add-ons.
Select FRESH START.
Follow the PROMPTS.
Wait for enable notification.
Select DONE.
Reboot Kodi.
Most efficient method to fix problem
Exodus may need to be re-installed. In this step, make sure you have installed the "TV Add-ons Config Wizard". Once the config wizard got installed in Kodi.
Select "PROGRAMS" then go to "ADD-ON INSTALLER"
Go to "FEATURED ADD-ONS".
Select "EXODUS" and click "INSTALL EXODUS".
Go back to the main menu. Select "VIDEOS" and navigate to "ADD-ONS".
At last launch Exodus add-on.
Press "BACK" button.
Kodi may need to be re-installed
Internet issues.
Overheating of streaming device.
Unavailability of streaming sources.
If you find anyother problems with exodus, please do drop a comment. We will get back to you as soon as possible.