If you are using Kodi, then definitely you would have used some kodi addons for watching movies, tv shows, sports, etc. Whenever you open some movies or tv shows from addons like exodus, it will load the list of servers available for streaming the videos. Have you ever noticed openload in the list of servers? I am sure you will! When you choose openload server for streaming, it will prompt a openload popup box requesting for openload pairing. It's nothing but the stream authorization provided by https://openload.co/pair.
VPN for Kodi
Your IP Address:
54.218.158.14
is visible to the public.
You are taking risk!
As a kodi user, we used to watch tv shows, movies, live streaming videos, PPV and much more. Watching these from your own IP address is totally risky. Also, few kodi add-ons are geo-restricted and can't be accessed by all the users. In order to get rid of such issues, a Kodi VPN is always recommended. Using a VPN will unlock geo-blocked content, keep you anonymous online and watch without buffering! After testing out various VPN services for kodi, we found
IPVanish
to be the best amongst all.
Click here to get an instant 57% special discount on IPVanish for kodiforu users
.
You need not worry if that is some kodi error. Nothing like that. You can fix this openload pair kodi error in less than 2 minutes. Follow this article carefully 🙂
What is openload.co pair kodi error?

This is how the openload stream authorization popup looks like. It will prompt the following message…
To play the video, authorization is required Visit the link below to authorize your device on the network: https://olpair.com then click pair
So, what is the necessary for openload pairing?
In order to know this, you can assume openload.co as a server for hosting the movies. As there is a heavy demand for watching movies and tv shows, if many open the server at the same time then it would crash. So in order to get rid of that, the concept of stream authorization is introduced. So you would need to pair your network (i.e IP) by using openload.co/pair (Now it's called olpair.com). Once you have paired your network, you can enjoy the free streaming of movies for 4 hours. Once the time gets over you need to pair it again.
Also check: vidup.me pair kodi error fix
Is openload pair safe?
If you ask me the same question, then I would NOT say it's 100% safe. Because streaming latest movies, tv shows, PPV videos and other things are illegal because of the copyright problems. So if you stream them on your IP, then obviously you are leaving a footprint. So if you want to be 100% safe and anonymous while watching movies on kodi, then we highly recommend you to have a VPN. With a VPN service like IPVanish. you can mask your IP address completely and stream anonymously from a different location in the world.
Get Special Discount on IPVanish below (exclusive for kodiforu users)

I guess it's enough explaining about openload.co pair. Let's  now check the steps to fix this problem!
How to fix openload.co pair kodi error?
1.Make sure you have connected your streaming device and your mobile / pc on the same network.
2. Open your web browser and enter this url: https://olpair.com/
Note: If you have purchased IPVanish then turn it and change the IP before visiting olpair.com

Hint: You can bookmark this page to copy the olpair url whenever required.
3. Now you will find something like the one in below image.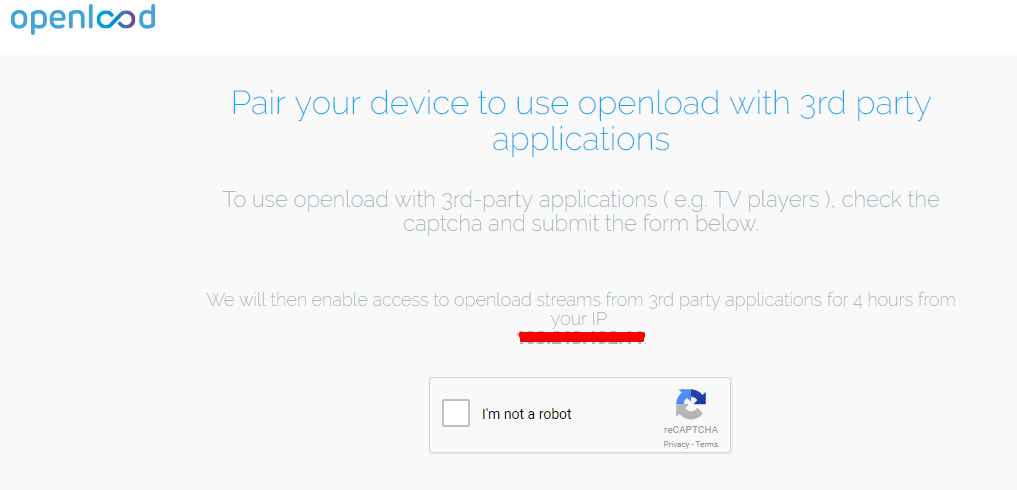 4. Here you have to click on "I'm not a robot" to verify you are a human. Once done, just click on pair option to complete stream authentication.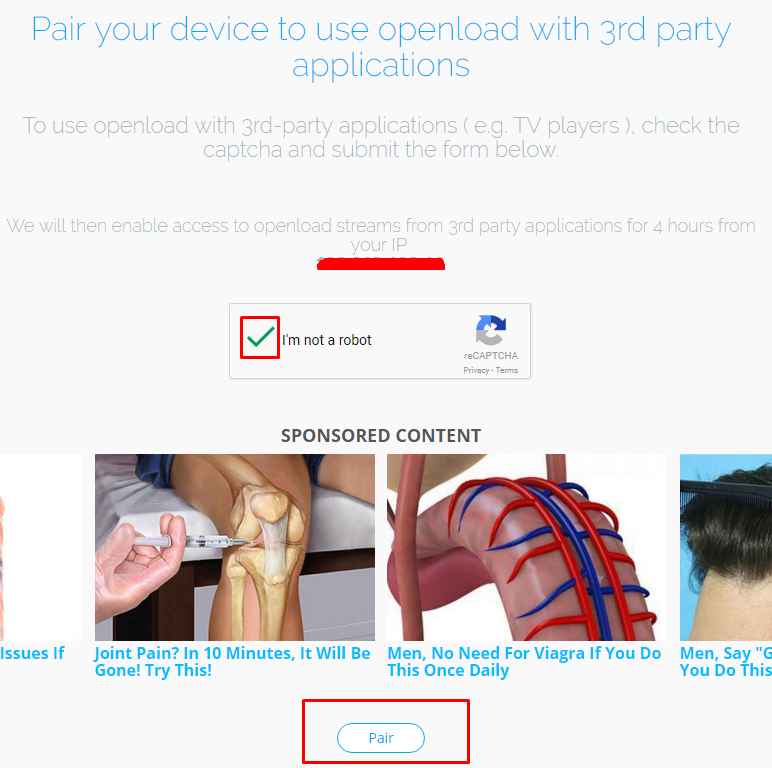 5. That's it, guys! Once it gets paired you will get a success message as you see below.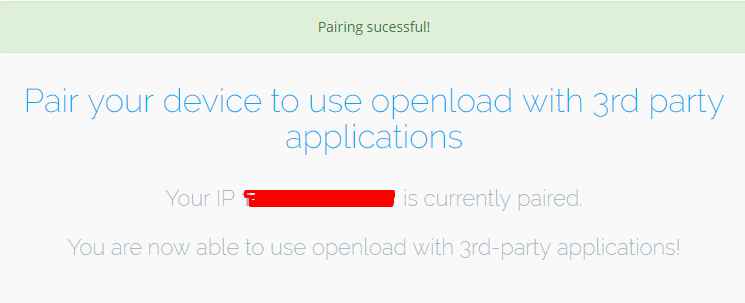 You can now enjoy openload with any 3rd party applications without any issues.
I guess the overall time to setup openload.co pair kodi is hardly 2 minutes. Okay, let me not waste your time. Just go and enjoy your movie.
Alternative method to fix openload.co/pair kodi error
This method is suggested only if the above one didn't work out. Here we will be deactivating the hosters which require captchas verification.
In addons like exodus, under addon settings you can find an option to turn of the hosters that needs such authentication. Once you have disabled, when you try to watch some movies, it would not load up those servers. The problem is, you may end up with no servers ready to stream the movie. So if you are not servers available then revert back these settings and again try the first method.
Other variants of addressing this error: olpair error, openload pair, https olpair com, openload.co/pair, https://openload.com/pair, olpair.com, openload pair kodi, openload/pair https://olpair.com kodi, etc… All these are one and the same. So don't confuse 🙂
If you are facing any issues, let us know in comments.