Basically, kodi comes with its default settings that provide a limited access. If you want to configure kodi like a pro then you would probably need a special addon. Well, the addon which I am mean here is nothing but the Easy advanced settings kodi addon. This addon will help you to make some awesome changes to your kodi, just like a root android phone does. With this addon, we can do lots of magic on kodi. To be specific, one major feature of kodi easy advanced settings is its ability to fix the buffering issue. Yes, you heard it right! With easy advanced settings, you can fix kodi buffering by configuring the cache memory properly. In this article, we have clearly explained from the scratch about fixing the buffering problems of kodi with this addon. First, let's learn to install this amazing add-on.
VPN for Kodi
Your IP Address:
207.46.13.250
is visible to the public.
You are taking risk!
As a kodi user, we used to watch tv shows, movies, live streaming videos, PPV and much more. Watching these from your own IP address is totally risky. Also, few kodi add-ons are geo-restricted and can't be accessed by all the users. In order to get rid of such issues, a Kodi VPN is always recommended. Using a VPN will unlock geo-blocked content, keep you anonymous online and watch without buffering! After testing out various VPN services for kodi, we found
IPVanish
to be the best amongst all.
Click here to get an instant 57% special discount on IPVanish for kodiforu users
.
How to install easy advanced settings kodi addon on krypton 2017?
1. Open kodi on your device and tap on the settings icon at the top left.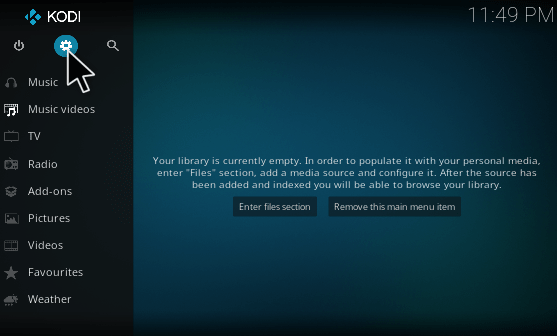 2. Select the File manager for adding the source.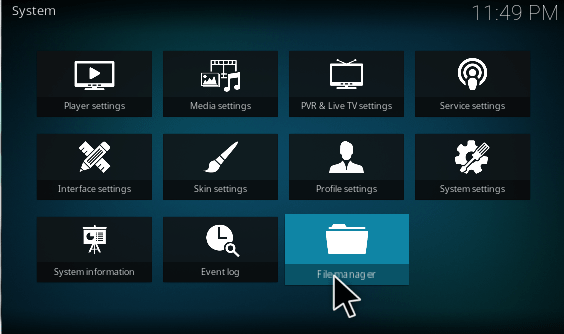 3. Double Click on Add source to choose the file path of the addon.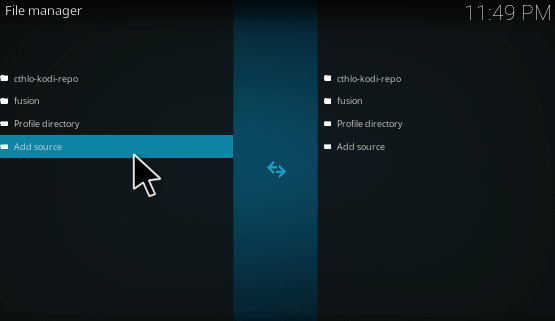 4. Clicking on <None> will open a pop-up window.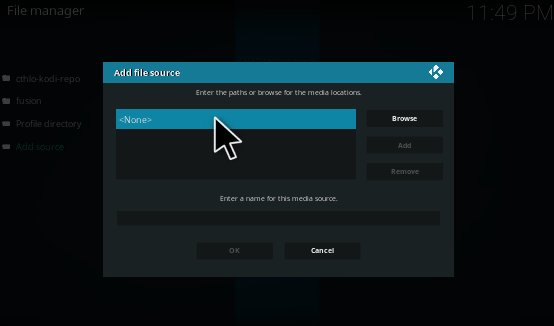 5. Now in the given box enter the repo URL "http://repo.hackmykodi.com/"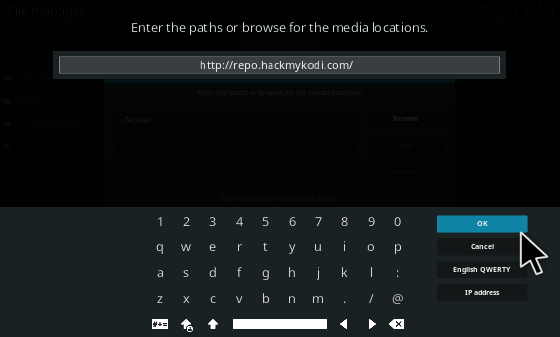 6. You have to name the file. Here I have entered it as "eas". You can provide any name. But make sure you remember that. Once enter the name click OK.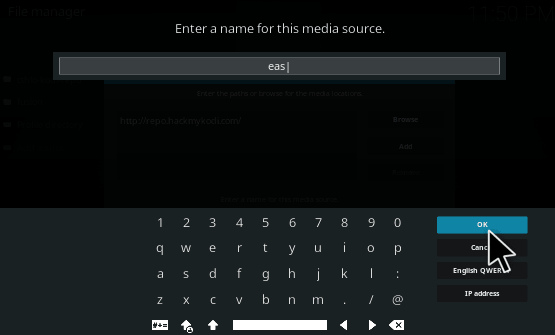 7.Now get back to the homepage by clicking escape. Then go to the add-ons tab. Next tap on the box icon as shown in the below screenshot.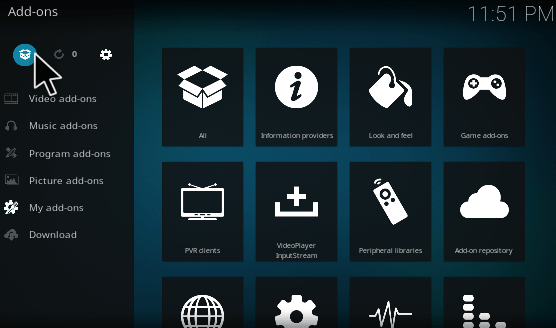 8. Now it's time to install the zip file.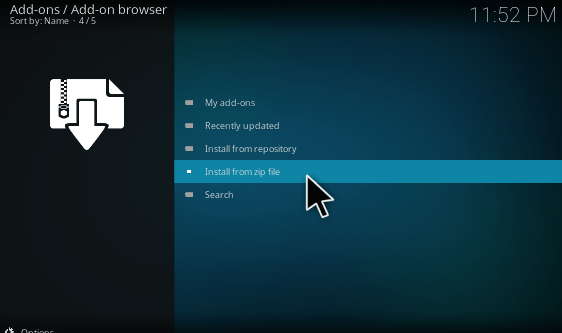 9. Select the folder which we have entered in step 6.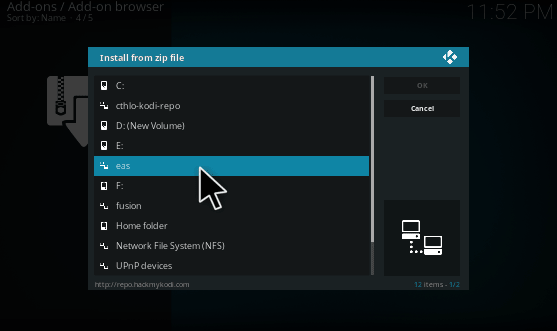 10. From the list of folders choose Program-addons.
11. Then select system-settings.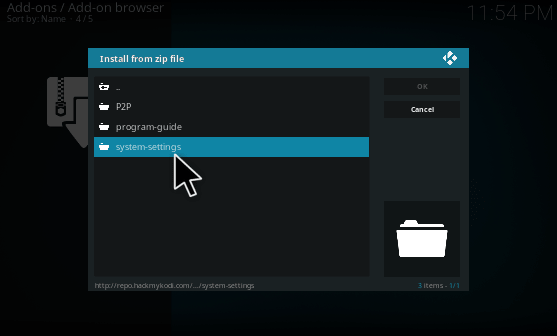 12. It's almost over now. The final step is to click "plugin.program.advancedsettings-0.8.8.zip"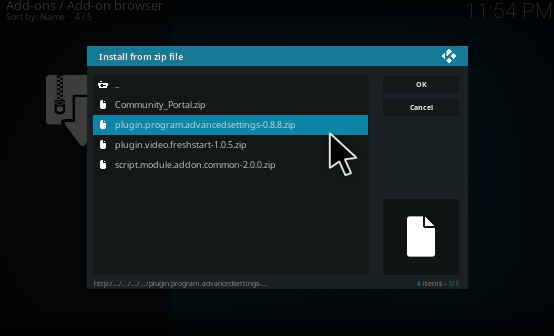 13. Now it will take a few seconds to get installed. Once it's done you will find a notification at the top.
So you have successfully installed Easy advanced settings Kodi addon. The next task is to fix kodi buffering issues with kodi easy advanced settings.
How to fix kodi buffering with easy advanced settings addon?
1.Open the EAS kodi addon from Add-on -> Program add-ons.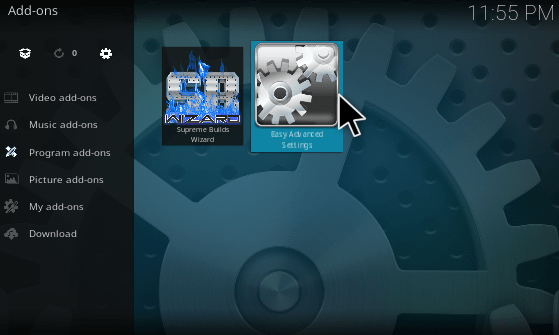 2. The dashboard of kodi easy advanced settings will be as seen below. It has 5 different options likely, edit settings, write XML file, Write XML file to temporary location, Reset all settings and List enabled settings. As our point of interest is to fix kodi buffering issues, you gotta choose "Edit settings"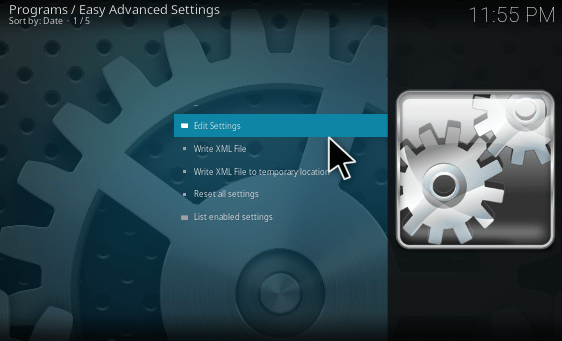 3. In the next window, you will find a long list of options. In that scroll down a bit and find "Network settings"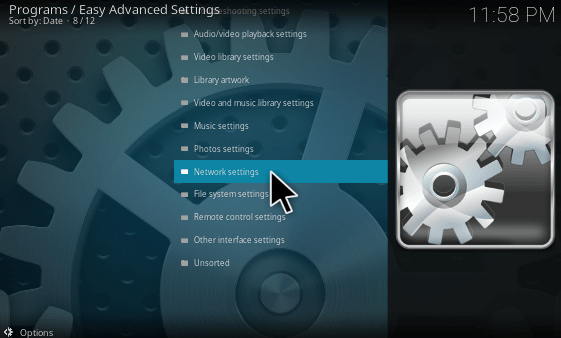 4. In the upcoming window select "Network".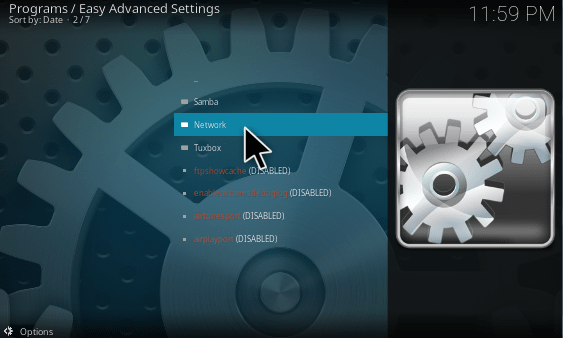 5. Now you would see a list of 7 options disabled.In order to fix the kodi buffering issues, we have to optimize the kodi cache. In total three parameters have to be changed here. By default, the kodi will not allocate any memory for the cache. So we are going to enable it and provide 50 GB for the cache memory. To do so, follow the below steps.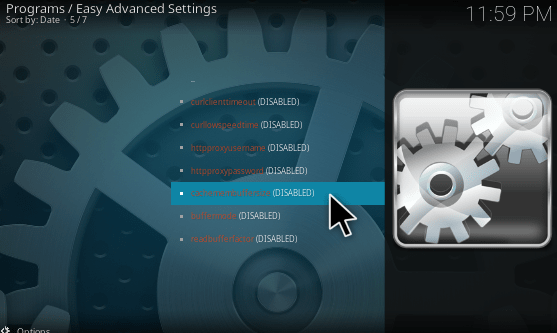 6. Select cachemembuffersize to change the value. In the pop-up window enter the value as 419430400. Now you would have a question, what value is this? It's just 50 gb entered in terms of bits. (8 bits * 1024 kb * 1024 mb = 419430400 bits) Okay, let's not go more with calculation 😛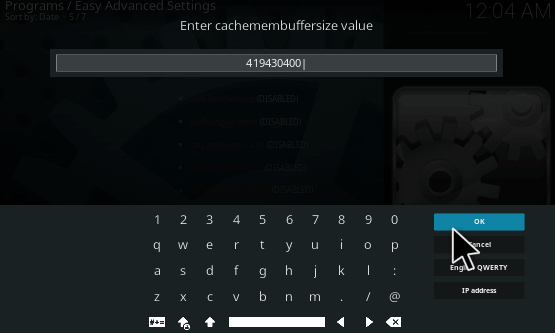 7. The next value to be edited is the buffermode. Choose 1 in the pop up that opens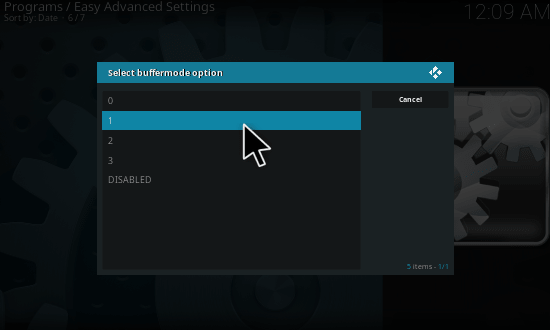 8. Finally, select readbufferfactor value and enter the value as 20.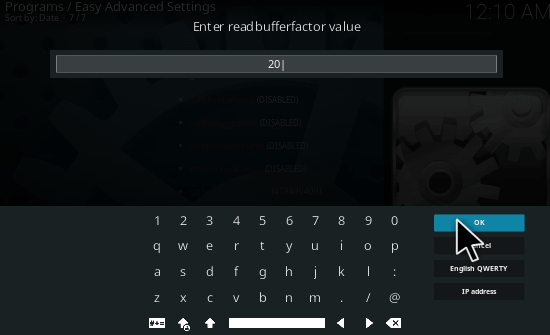 It's almost done, guys! So if you are confused about what's happening, let me explain it in short. In general when we used to watch movies or tv shows with online streaming then loads of data gets loaded in real time. Say if you are watching a movie with 4k HD quality then it will consume a lot of data. So these data will get stored on your device as a cache. As the data is very bulk it will be hard for the system to process it. That too when kodi is not configured properly it will start to buffer. So in order to get rid of kodi buffering, we have increased the cache buffer size. By doing so, more memory will be allocated for the cache. So the data will have enough space for streaming high-quality videos.
Apart from these, there are also cases where other addons will run in the background consuming the internet as well as the system performance. These may also be the reason for the buffering of kodi. With the above settings made with easily advanced settings kodi addon, we will be able to fix kodi buffering problems.
If you are still facing buffering issues, then the possible reason could be due to the internet issues with your ISP. At the worst case, when the server gets heavily loaded the videos start buffering.
At the worst case, when the server gets heavily loaded the videos start buffering irrespective of your internet speed. In such cases, we would suggest you to setup IPVanish VPN for kodi. So what it will do is that the IP of your Internet service provider will be completely masked and browse from other location. Say for example if the host server of the video/ movie is located in the United States, then you can select US location on IPVanish. As a result of that, you will have a quick access to the server and the video will play continuously.
Other features of easy advanced settings kodi addon
There are lot more features available with easy advanced settings addon. It would make the post much longer if I explain each and every option available at this addon. So let me discuss some of the most useful features.
Audio/ Video playback settings: With this option, you can make some great changes to your audio and video players. Say for example you can customize the subtitle delay, audio delay, fast forward speed and much more.
Troubleshoot settings: With this option, the add-on itself will have the intelligence to fix some minor problems by troubleshooting itself.
Photos settings: Here you can make some settings like a slideshow, photo rotates, edit and other basic things.
Remote control settings: With this option, we can edit the remote delay or repeat timings.
There are lot more options in easy advanced settings addons which you can explore.
Hope I have added some value to this post on fixing kodi buffering with easy advanced settings addon. If you have any issues, let us know via comment. Have a great day 🙂
Summary
Reviewer
Review Date
Reviewed Item
Author Rating